A.I. (Amsterdam Intelligence) Part 1
Part 1 ... Part 2 ... Poster photos ... Discuss this report
The Date: 28th - 29th June 2001
The Place: Liverpool, Schipol and Amsterdam
The Occasion: Cine Expo special European preview screening of A.I.
It takes a while for these photos to load up (180+ kb in total), so please be patient...
Want enlarged versions of any of these photos? Email me at ah328@cam.ac.uk
And so it begins...
To those of you who are only interested in reading my review of the movie, you might as well skip ahead. As for the rest of you, here's a bit of background behind this trip.
A few months ago, a trailer was released for Spielberg's new film, A.I. At the end of this trailer, the words 'Summer 2001' had notches in its letters that corresponded to a phone number. Ring the phone number and you were treated to a message which launched you onto a full-blown Internet murder mystery that was set in the year 2142 over dozens of websites and thousands of webpages that comprised a self-contained future world that made no references to the present or to the film.
So it was a pretty interesting marketing campaign, and in time thousands of people gathered into an online community to solve all the puzzles and problems within the murder mystery; I wrote a walkthrough for the game.
Early in June, the creators of the game (the 'Puppetmasters') set up a website announcing that they would be holding a special preview screening of A.I. in Europe for players of the game; the screening would be at the Cine Expo movie conference in Amsterdam, and the tickets were strictly limited.
As soon as I got word of this, I immediately signed up. Sure, it might strike some people that flying to Amsterdam just to see a movie is a little excessive, but I'd been playing the game for a long time by then and the movie wouldn't be on general release in Europe until mid-September. So, to me, it was worth doing. I made arrangements to stay with a friend in Amsterdam and then booked my ticket.
Liverpool
I set myself a goal for the Amsterdam trip - to travel everywhere possible on public transport. I've tried to do this whenever I go anywhere foreign for several reasons. Firstly, it's cheap. Secondly, it serves to remind me of the terribleness of the British public transport system.
Anyway, I got to Liverpool Airport without any trouble and I was quite looking forward to seeing the endearingly unprofessional flight assistants and crew of the EasyJet staff on my flight; if you didn't know already, Liverpudlians have a certain reputation for this sort of thing.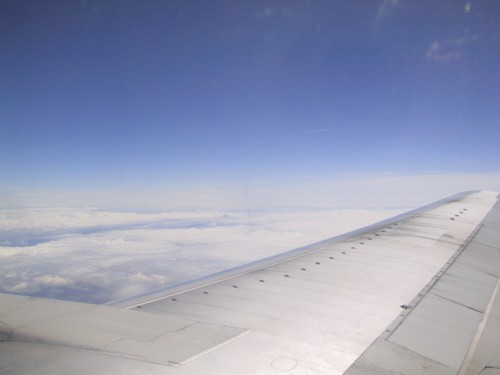 Amsterdam
As it happened, the flight was fine and there wasn't anything interesting to report there. I managed to get to Schipol Airport in Amsterdam without any problems and it's possibly one of the friendliest and most easily navigable airports I've been to; speaking of which, I remember reading something in an article once saying that Schipol or some such European airport has the best direction signs in the world (i.e. to help people get around the airport).
So I managed to follow the directions to a train going to Amsterdam Centraal and bought myself a ticket (most people in the Netherlands speak English).
[Digression: I have this weird propensity to over-analyse which queue I want to stand in for buying stuff. It's not just the length of the queue that matters, see, but it's also the density, the number of people, the groups and the shifty-ness of the characters within it. That's not to say that I spend several minutes studying queues - all of this goes on semi-subconsciously. Unfortunately, when I was getting my train ticket my subconscious must have been out of whack since I stood behind a short queue which however had a guy trying to pay in deutschmarks - and he didn't even have enough of them!
Sigh. Anyway, my Q-Sense later recovered on the check-in for my flight back to Liverpool when I successfully decided that the queue with serious-looking businessmen and no couples with tandem bicycles would probably be quicker than the queue with no serious-looking businessmen and one tandem bicycle (which I should add was a clear sign of trouble. The tandem bicycle, I mean, not the lack of businessmen, serious-looking or otherwise).]
I have this huge respect for the Netherlands public transport system. They have wonderful double-decker trains. Okay, I know perfectly well that many other countries have double-decker trains but I first saw them in the Netherlands. Whenever someone mentions the terrible state of the British railway system, you can always be sure that I'll bring up the point of double-decker trains. It's not that we need greater rail capacity in the UK, they just look neat.
Of course, the train I got to Amsterdam Centraal was a double-decker and just as I was getting into my non-tourist character (i.e. looking surly and not speaking English), the train broke down. Staying in character, I outwardly pretended that this didn't faze me a bit. Inwardly, I was devastated - how could their rail system betray me in such a way?
After a few minutes in which all the guys sitting around me (all of whom were not locals, thus negating my need to stay in character, as it were) worked out what was going on and soon enough we were off again. I'm sure a lesser tourist might have been worried that the carriage I was in had smoke coming out of it when I disembarked, but then they wouldn't be a Rogue Train Traveller (don't ask).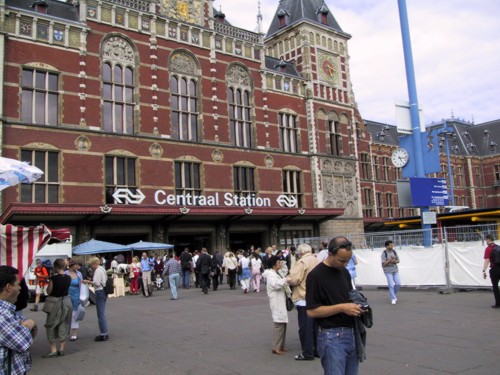 Amsterdam, while a capital of a not insignificant European country, is actually quite a small city. That means you can take a public tram to pretty much anywhere in only half an hour, or you could walk there.
After I'd emerged from Centraal and had a bemused look at the distinctly non-Netherland Africans playing some music outside the station, I wandered aimlessly around for a bit to see where I could buy a two-day ticket for the trams. Eventually I wound up at the GVB where I walked out two minutes later triumphantly holding the ticket.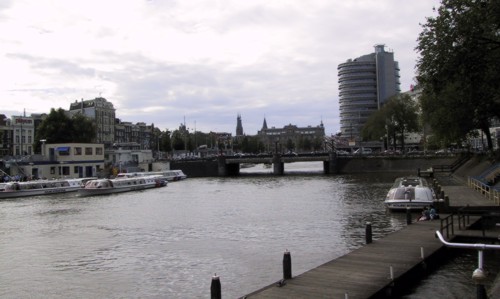 Now the problem was finding the correct tram. I knew which number I had to take to get to my friend's house, but I wasn't sure if they all went in the right direction. After a bit of worrying over this, I decided to leave it to the fates and just jumped on board the next tram.
Once on board, I realised that the fates hadn't been too generous to me in the past so I asked the driver whether the tram would be going to the particular station I wanted to get to. Unfortunately, he didn't know English so I was in a bit of a bind. Right at that moment, I had the god-given idea to whip out my Visor PDA and show him the name of the street, which he recognised and affirmed with a nod that this tram would be going there. And to me, that confirmed in my mind that I should never go anywhere without my Visor PDA in the future.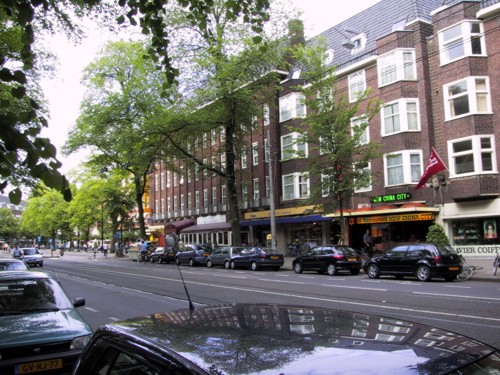 Here's the street at which I got off. Very nice, about 30 minutes out from the city centre. It was only a few minutes walk until I got to my friend's house. I dropped off my bag, made my greeting, got changed into some shorts and then I went out for a cycle to the Cine Expo conference site to check it out.
I was a little apprehensive about this, to tell the truth. I hadn't ridden on a bicycle proper for about a few years, and going from that to riding in the streets of Amsterdam wasn't my best idea of easing back into the saddle, as it were, but there were no problems. In fact, Amsterdam is probably the best city in which to do something like that since bicycles practically have right of way (in fact, I think they might really do) - they certainly have dedicate cycle routes on every single road. A cyclist's heaven. I recommend that any visitor to Amsterdam should go and hire a bike (or steal one, it wouldn't make any difference) and have a cycle around.
The conference centre was easy to locate and we were quite impressed by the sheer amount of movie presence there - huge posters and billboards all over the place. Having successfully reconnoitred the location, we rode back home and had an excellent dinner.
8:45pm - we were ready to go. I'd changed into my classic Cloudmakers T-shirt and in a tacit surrender I wore some trousers so I wouldn't look too out of place against all the suited-up conference attendees. It was time to roll.
On to Part 2 >>