Alton Towers - plus my birthday
The Date: Not entirely sure
The Place: Alton Towers and at home
The Occasion: Alton Towers and my 19th birthday
Of course I know when my birthday was, I'm just not sure when we went to Alton Towers. And no, I'm not telling you what date my birthday is, although I'm sure that if you're really bothered you can probably work it out yourself.
Want enlarged versions of any of these photos? Email me at ah328@cam.ac.uk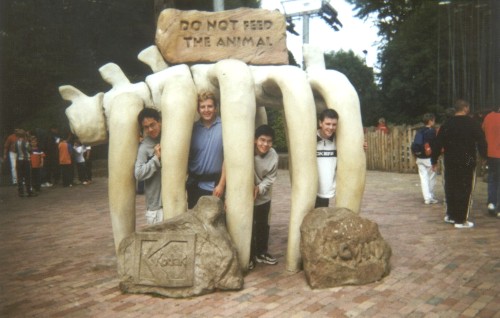 All of these photos were taken by Frances and then given to me to scan in (which I fully admit suffered the full effects of my special Procrastination Powers). Like I said earlier, I'm not entirely sure when we went to Alton Towers - it was probably some time in July 2001. Here you can see myself, Matt, Anthony and Jamie in the amusingly named 'Do not feed the animal (sic)' Kodak Moment sculpture thingy. I think they should have made animals plural.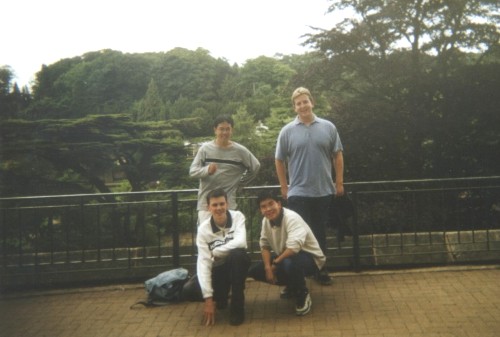 'Oh, why don't we go and walk through the park, that's bound to be quicker than taking the cable cars!' said some fool as we were trying to take a shortcut across the park. Here we are after then end of our journey, vaguely triumphant and with a slightly better understanding of why our teachers at school preferred the park to the rides.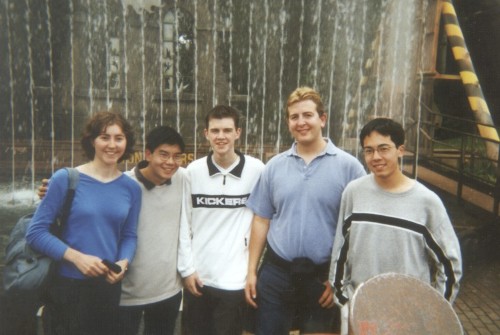 Just before we went on the Ripsaw for the second time; one of the ride attendants took this photo for us, which turned out extremely well and increased my appreciation for Alton Towers a fair bit (small things matter!). Despite our frequent, loud and occasionally expletive-ridden exhortations to get the ride operator to 'knock it up a notch' and turn the water jets onto full blast, not one of us got the slightest bit wet on the two times we went on the Ripsaw. Fools, the lot of them!

Left to right: Frances, Anthony, Jamie, Matt, myself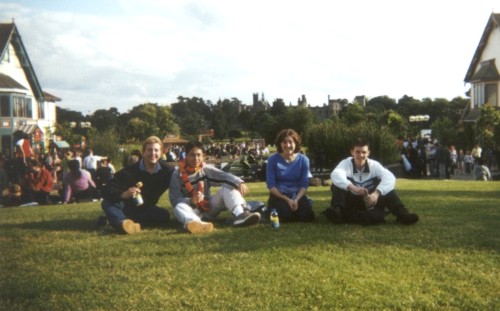 Relaxing after a hard day's work at Alton Towers on one of the grass circles in the Main Street. The orange thing draped casually around my neck is a long fluffy snake toy won by Jamie on the basketball game outside the exit to the Black Hole.

All in all, it was a pretty great trip to Alton Towers - we managed to go on all of the decent rides except for the Nemesis (which was out of commission) and some of the less-good rides. Queues were fairly short since it wasn't quite school holidays yet and it didn't rain at all.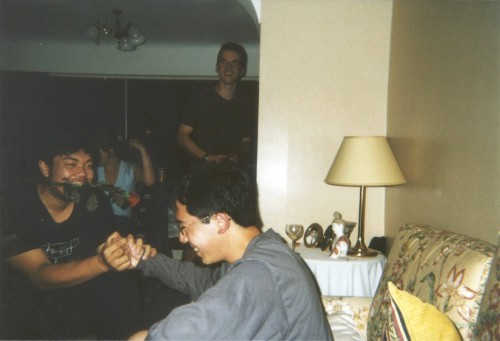 The next couple of photos were taken also by Frances at my birthday, which was roughly 12 hours after I got back from Seattle for my Microsoft visit. Strangely enough, I didn't drop dead from exhaustion. Here's Mo, with the rose clenched firmly in his teeth, proposing to me. After a bit of thought, I declined. You can't see the box of chocolates he and Martin also brought along for me (but you can see Martin lurking in the shadows, laughing evilly away).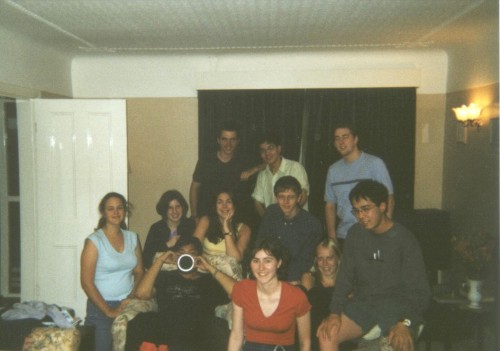 Group photo. Top row, left to right: Martin, Anthony, James.
Middle row: Liz, Katherine, Carolyn, Richard, myself
Front row: Mo (with one of my astroturf coasters on his face), Frances and Rachel.